Best Activities for Seniors in Florida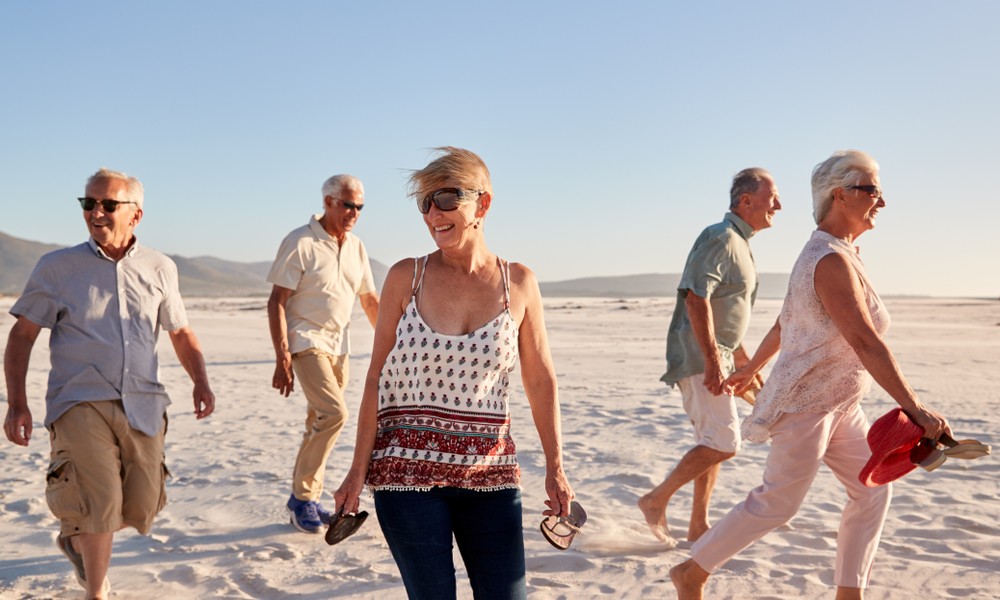 An active life doesn't need to revolve around countless hours at the gym. Physical activity can come from fun with your friends and family too! In Florida, summer activities for seniors are a great place to invest in your overall health and add adventure to your retirement.
For instance, a decrease in physical pain, reduced symptoms of anxiety and depression, better social relationships, improved mood and a lower risk of dementia are all benefits of staying active.
So if you're ready to mix extra fun into your retirement while also reaping the rewards of a healthy lifestyle, check out these 10 fun activities in Florida for seniors.
1. Go antiquing
The charming town of Mount Dora is just 40 minutes from Orlando and is a must-see any time of the year. However, three times a year you can attend one of Mount Dora's Antiques & Collectors Extravaganzas. Make sure to wear your walking shoes, because this sprawling event features booths from more than 800 of the nation's top antique vendors and holds a treasure trove of unique and vintage items.
2. Explore the outdoors
Are you looking to add a little adventure to your retirement — but with a discount? Then use your National Senior Parks Pass to tour the Everglades! Florida's Everglades National Park is the largest subtropical wilderness in the United States, and features ranger-led programs like guided paddle trips in the Gulf Coast District or tram tours in the Shark Valley District.
3. Soak up sunshine on the beach
Catch some fun in the sun for free at Daytona Beach! This Florida destination has summer activities for seniors and kids alike. You can explore the interactive water fountains, decorative walkways and beautiful beachfront while your grandkids cool off at Sun Splash Family Waterpark,where there's a freshwater splash pad and playgrounds.
4. Take time to play
There's something for everyone at Dezerland Park in Orlando. This incredible attraction features 800,000 square feet of fun. Spin your wheels on the go-kart course, test your swing on the glow-in-the-dark  putting range, knock down some pins in the bowling alley and more. You can even see the world's longest car at The Auto Museum, an experience perfect for car enthusiasts.
5. Work on your golf game
Golfing is one of the best summer activities for seniors in Florida because of vibrant putting greens and abundant sunshine. Visit the world-famous Sorrento's Eagle Dunes Golf Club or the gorgeous scenery on the course at Waldorf Astoria Golf Club in Orlando, which winds through wetlands, mangrove stands and pine forests.
6. Book a fishing charter
Fishing is a popular activity in Florida for all ages. Make it a little more fun (and easier) with a fishing charter, like Jay's Bass Bustin' Guide Service. You can take a 4-, 6- or 8-hour bass fishing charter on the most popular Central Florida lakes and rivers. They even accommodate large groups and provide you with the latest fishing equipment, which makes it the perfect way to spend time with all of your friends.
7. Put your skills to the test
If you can't wait for summer, Plant City's Strawberry Festival in March is an 11-day celebration featuring cake-decorating contests, quilting contests, needlepoint and needlework contests, carnival rides for kids and adults, and youth livestock shows. There's also a day dedicated to seniors, where patrons over 60 years of age receive an  admission discount and are entered into a raffle to win prizes.
8. Take a walking tour
Experience Florida on foot with walking tours, where you can see and taste your way through the Sunshine State. For instance, you can take an art walk on Delray Beach, go on a walking tour of historical Deland, or take a food tour of West Palm Beach.
9. Find culture and explore history
Go beyond your typical museum experience by exploring places like the Apalachicola Maritime Museum, which highlights the vibrant boating culture in Florida and also offers a variety of scenic cruises, or take a step back in time at the Ah-Tah-Thi-Ki Museum, which provides a glimpse into the life as a Seminole in the 1890s and features a re-created hunting camp.
10. Treat yourself with something indulgent 
Rainy days in Florida call for a treat. When you're ready to take a break from your on-the-go lifestyle, slow things down and indulge in the decadent offerings of Chocolate Kingdom. Here, you'll find a one-of-a-kind chocolate museum where you can have a hands-on chocolate-making experience or learn the perfect pairings of wine and chocolate.
Choose Your Own Adventure at Freedom Pointe at The Villages and See Where Retirement Takes You
Find your personal path to a fulfilling retirement at our senior living community in Florida, where everything you need for an active lifestyle is at your fingertips. From our incredible location near the La Hacienda  Recreation Center to our more than 45 resident-led interest groups and clubs, there's never a dull moment in our community.
Contact our senior living representatives online to learn how you can find the retirement you've been searching for at Freedom Pointe at The Village, and we'll be in touch shortly!