How Many Steps Should a Senior Walk in a Day?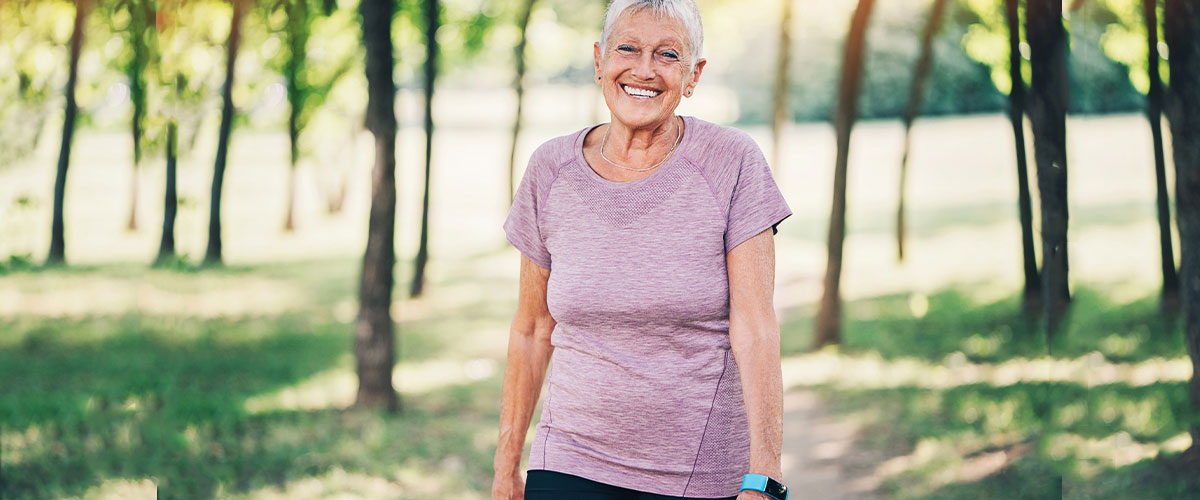 Today's seniors want to take care of their health. They're actively seeking out lifestyle adjustments that allow them to enjoy better days and greater longevity. That's why you see walking clubs for seniors on nearly every independent living calendar. Step counting is one way seniors are able to gauge how much exercise they've gotten each day and how much progress they're making toward their health goals. So what are the benefits of walking, and what is the recommended steps per day for seniors?
Why Should I Walk?
There are several benefits of walking, especially for seniors. This low-impact workout can enhance the lives of older adults in many different ways. And because it's free and available to everyone, there aren't many reasons not to add more steps to your routine.Health Benefits of Walking:
Better physical health
Regular cardio workouts can lower blood pressure and cholesterol. Walking can lessen your risk for diabetes, stroke and heart disease.
Less pain from arthritis
Walking builds muscles, which takes stress off joints. Walking can also help you rebuild cartilage, softening impact on sore joints.
Lower blood sugar
A short walk directly after a meal can diminish the expected blood sugar spike and direct your body to use the sugar to strengthen muscles.
Weight control
Walking helps you burn calories and lessens cravings for sugary foods. Also, each pound you lose removes significant pressure on joints, further easing your pain.
Better mental health
The endorphins that come from a workout can alleviate symptoms of depression and battle fatigue.
How Much Should I Walk?
According to the National Institutes of Health (NIH), healthy seniors should walk 7,000 – 10,000 steps per day. That's an average of three to three and a half miles throughout the course of a day. Experts at the National Institutes of Health also recommend seniors strive for several continuous bouts of walking, at least ten minutes at a time.
What If I Have Limited Mobility?
If seniors have a chronic condition that limits your ability to walk comfortably, the NIH recommends they aim to walk only about 5,500 steps each day, or an average of two miles. Talk to your doctor or a physical therapist about ways to make this goal more achievable for you.
How Do I Track My Steps?
There are some wonderful fitness trackers on the market right now. Depending on how many bells and whistles you'd like your tracker to have, you can find one for as low as $30 (these will probably only count your steps and maybe your calories burned). The prices go up from there, but you can find trackers that offer heart rate monitors and oxygen level reports, and they share that data with your doctor. Some can even alert emergency contacts if you fall to give you extra peace of mind.
How Do I Stay Motivated to Walk?
We know, it's easy to talk about better fitness, but it's harder to make it happen, so here are some helpful tips to stay motivated:
Set Realistic Goals
If you haven't walked much before, don't try to jump all the way to the step goal right away. Set realistic and achievable goals. Celebrating smaller achievements along the way will give you the inspiration to keep going.
Use the Buddy System
Walking with a friend can help you enjoy the process even more. If your friend is also working toward a fitness goal, you can hold each other accountable and encourage each other along the way.
Add Variety
Take your walks in different settings — parks, senior living neighborhoods, shopping malls — wherever sounds fun. Give yourself something to spark more interest in your workout.
At Freedom Pointe at The Villages, we support our residents in any wellness effort. They can take part in our daily fitness and wellness programs, stroll our beautifully designed walking paths, or work in some steps by enjoying some golf on campus!
If you'd like to know more about our holistic approach to wellness or senior living in general, let us know. A member of our team will respond to you as soon as possible.