Financial Options to Cover Senior Living Costs
Our financial options make your dream retirement possible.
With healthier lifestyles and improved medical treatments, seniors are enjoying happier and healthier lives. Of course that means they also have to make their savings go further. That's why having a well-thought-out plan for the future is so important. As you start to explore your retirement community options and learn more about the cost of independent living, you may wonder what your best option is and how you'll pay for senior living.
As a Life Plan Community, Freedom Pointe at The Villages offers an independent lifestyle with a variety of services and amenities. Plus, our Life Care contract helps combat the cost of senior living by giving you the peace of mind of knowing a full continuum of high-quality care is available on-site at predictable monthly rates.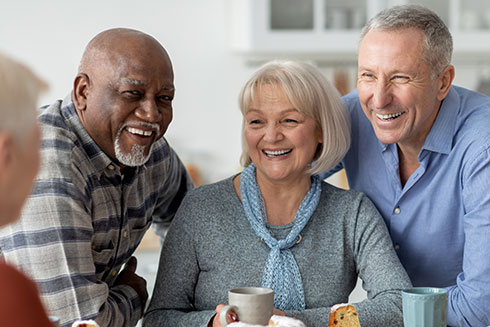 Entrance fee and monthly fees
Freedom Pointe at The Villages requires a one-time entrance fee and ongoing monthly fees. Entrance fees start at $222,100 and monthly fees start at $3,120 for independent living. To better understand the following fees, we recommend you meet with one of our residency counselors:
Entrance fee
The amount of your entrance fee is based on the size of the residence you choose, the number of occupants, and the type of contract you sign.The larger your residence, the larger your entrance fee. In addition to covering your residence, the entrance fee also gives you guaranteed access to any future care you may need at a cost well below market rates.
Monthly fee
Your monthly fee covers home maintenance, property taxes, utilities, your dining plan, fitness membership, a beautifully maintained campus, and dozens of other services and amenities.
Whether you're in independent living, assisted living, memory care, skilled nursing or rehabilitation, your living accommodations, services, and amenities will be customized to fit your lifestyle and changing needs. Plus, we offer contract options that refund a portion of your entrance fee to you or your heirs, helping to preserve your assets and ensure your legacy.
Flex Your Future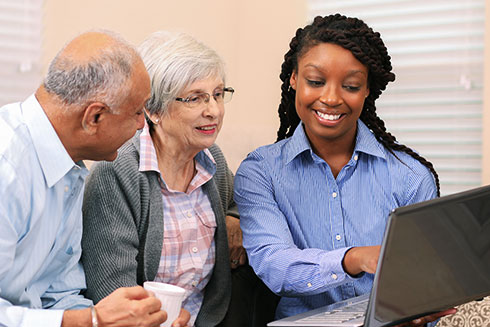 This program lets more seniors embrace the freedom of independent living by adjusting their senior living costs to better suit their budget. To customize your entrance fee, select your residence now with less out of pocket, then pay the remainder of that entrance fee on a flexible timeline.
Life Care
Our Life Care contract offers a way to cover your long-term care expenses in a way that makes them more predictable. If you ever have a health emergency, Life Care will protect you from the constantly rising price of long-term care, saving you tens of thousands of dollars. According to the Department of Health and Human Services, 7 out of 10 adults will need long-term care at some point, with 3 years being the average length of time services are needed. So it's easy to see how having Life Care could be a financial lifesaver!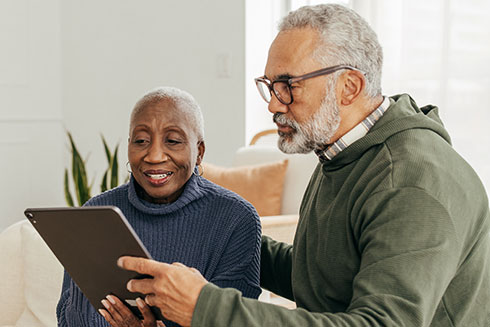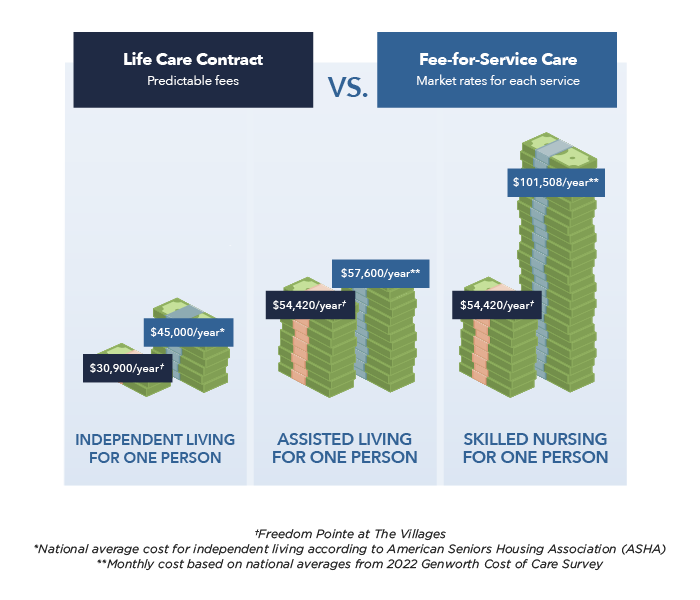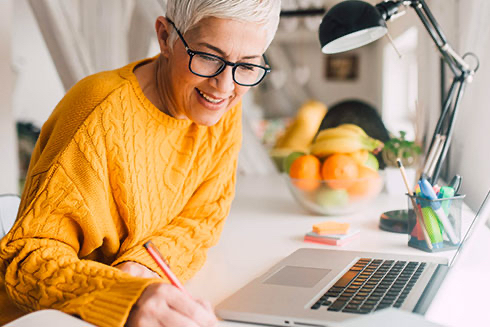 MoneyGauge calculator.
Take this two-minute assessment, powered by myLifeSite, to learn which Freedom Pointe at The Villages floor plan is the best fit for your lifestyle and your budget.
Tax advantages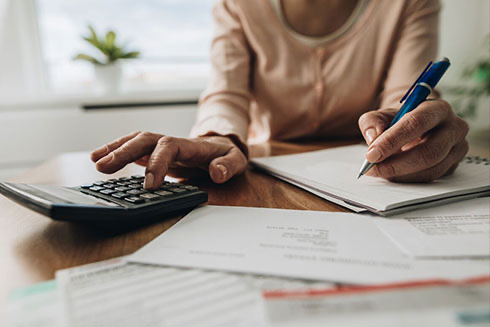 Many of our residents used a portion of the proceeds from selling their home to fund the cost of their independent living entrance fee. The IRS has ruled that a portion of your entrance fee and monthly fee are deductible on your federal income return as prepayment of medical expenses. To learn more, consult your tax advisor.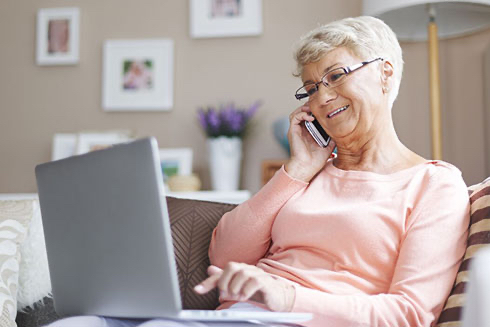 Got a question?
Ask us anything you like about our independent living lifestyle. Simply use the form on this page, or call 352-364-8581.