Retirement Doesn't Mean Boredom: 25 Things to Do Now That You Have the Time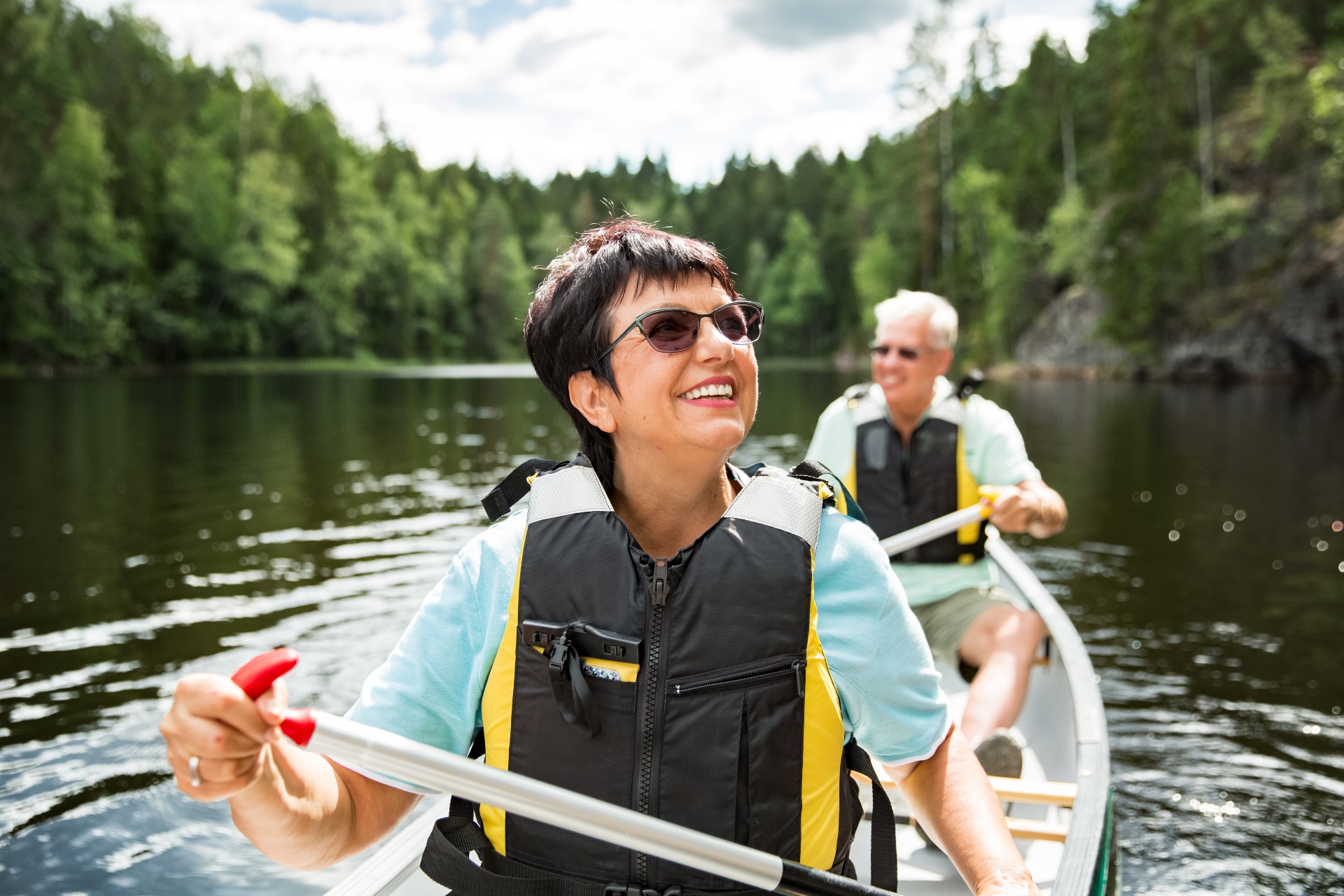 You may be looking forward to slowing down in retirement, but too much taking it easy is bad for your physical and emotional health. It's vital to continue to learn new things and stay involved in your community. Having purpose in life and doing meaningful things will help keep you motivated and happy. If you're looking for ideas on how to spend your golden years, here's a list of hobby ideas, activities and adventures to get you started.
25 things to do in retirement.
From cooking classes and homebrewing clubs to volunteering and skydiving, the sky's the limit when it comes to fun things to do in retirement.
1. Travel the world: Now's the time to visit those places you've always wanted to see. Swim with dolphins in Cancun, eat pizza in Naples, drink whiskey in the Scottish Isles, marvel at the northern lights in Iceland, explore the ruins at Machu Picchu.
2. Travel virtually: If physically traveling is a problem, there are online tools like Google Earth and 360 Cities that let you see the world from the comfort of home. Walk along the Great Wall of China, visit the Sydney Opera House, see the glaciers of Alaska.
3. Start a business: Consider using your career experience to start a consulting firm. Or turn a passion for cooking into a catering business. Or walk dogs for people who are at work all day. Or make and sell crafts on Etsy.
4. Get a part-time job: If you miss the workplace, find a fun part-time job with a company you love. It'll bring in some extra income and give you a place to socialize and meet new people.
5. Be a mentor: Many young people couldn't care less about your age and care more about learning from someone with similar interests. There are programs where you can mentor youth at a school or community center, as well as online.
6. Join a book club: Love to read? Book clubs can encourage you to read books you otherwise wouldn't, and they can open new doors to friendships and enlightening discussions.
7. Volunteer: From helping at libraries and food pantries to coaching youth sports and acting as a docent at museums, there are endless ways to make a difference in your community. Check out Volunteer Match for more ideas.
8. Learn a foreign language: Learning a second language will keep your mind sharp and may help prevent dementia. And it's never been easier with online courses such as Rosetta Stone, apps like Babbel, and classes at your community center.
9. Explore your family history: It's interesting to learn where you're perched on your family tree and who's connected to whom. As you research your lineage, you might discover new family connections and hear stories from relatives that you can pass on to new generations.
10. Play a musical instrument: If you've always wanted to play the piano or guitar, now's the time to learn how. You may not appear at Carnegie Hall, but do it for yourself anyway. It's a great way to express yourself creatively. Plus, it will reduce stress, engage your mind and lift your spirits.
11. Start a garden: Exercise, fresh air, not to mention fresh flowers and produce. What's not to love about gardening? If you don't have space in your yard, check out community gardens in your area.
12. Run a marathon: Train for it and do it. Or walk 26.2 miles. Or set a timetable to walk the marathon distance.
13. Practice yoga: Strength and balance are essential for an active lifestyle, and yoga can improve both. There are videos online and classes at most fitness centers designed for seniors. If you're really into it, consider a yoga retreat.
14. Join a walking group: Walking is one of the easiest ways to get moving. So why not recruit a few friends or neighbors and get started? Community centers, parks & recreation departments, or your local Y may also have walking programs you can join.
15. Sew, knit, crochet, or quilt: These crafts will keep your hands busy and your mind calm. There's something about the repetitive motion of crafts that regulates stress. Crafts like quilting have also been shown to improve cognitive, creative and emotional well-being. Do it with others and it can turn into a social activity too. You can also make a difference in your community. At Freedom Pointe, our Crafters Club makes throw rugs to deliver to local women's shelters.
16. Swim the Channel: It's 21 miles from Dover, England, to Calais, France. Why not set a timetable to accumulate 21 miles of swimming at your local pool? Say, swim 21 miles in a month, or two weeks, or a week?
17. Overcome your fear of public speaking: Don't let your fear of public speaking prevent you from doing it. Like most things, the more you do it, the easier it gets. Your local Toastmasters Club is a great place to start. They offer opportunities to practice public speaking so you can get comfortable in front of an audience.
18. Learn to tango: It's good to keep moving as you age, and enjoyable if you can do it with a partner on the dance floor. Learning new dance steps like the tango is good for your mind, balance and social life.
19. Start a woodworking project: Few things are as satisfying as crafting beautiful objects with your own hands. If you don't have access to a woodworking shop, there are simple projects you can make, such as a birdhouse or a picture frame. Plans are available online.
20. Ride a bike: Cycling is a great, low-impact way to stay fit. If you don't own a bike, you may be able to rent one if there's a bike share program in your area. Ask your local bike shop for suggestions and if there are bike education classes that offer easy group rides to get you started.
21. Learn to brew beer: Homebrewing is a popular hobby among seniors (especially the guys). It's fun to learn, doesn't take up much space, and you can share the results with other beer lovers. Local homebrew clubs and books available at your library are good places to start.
22. Take a cooking class: A cooking class can add spice to your life, sharpen your culinary skills and improve the quality of your meals. Ask your community center about in-person classes near you, or explore online classes available through Udemy and Rouxbe.
23. Go camping: You don't have to splurge on an RV to camp in comfort. Folding chairs, cots and a tent will help you feel right at home at any county, state, or national park. Seniors also get a discount at many parks.
24. Drive a race car: If putting the pedal to the metal gets your motor running, there are racing schools that'll teach you how to master the track safely at high speed. Cars vary from Corvettes to formula racing cars.
25. Go skydiving: It's not for everybody, but if your doctor gives you the OK, there's nothing stopping you from crossing this off your bucket list. It's the ultimate thrill for some seniors.
More time. More freedom. More opportunities to live life to the fullest.
There's always something fun to do at Freedom Pointe at The Villages. Our calendar of classes, clubs, outings, and events offers endless opportunities to learn, laugh and grow. Leave the chores to us while you spend your time doing whatever brings you joy and fulfillment. To learn more about our carefree lifestyle, get in touch. We'd love to hear from you.