How to Make Your Walk-in Closet Feel Luxurious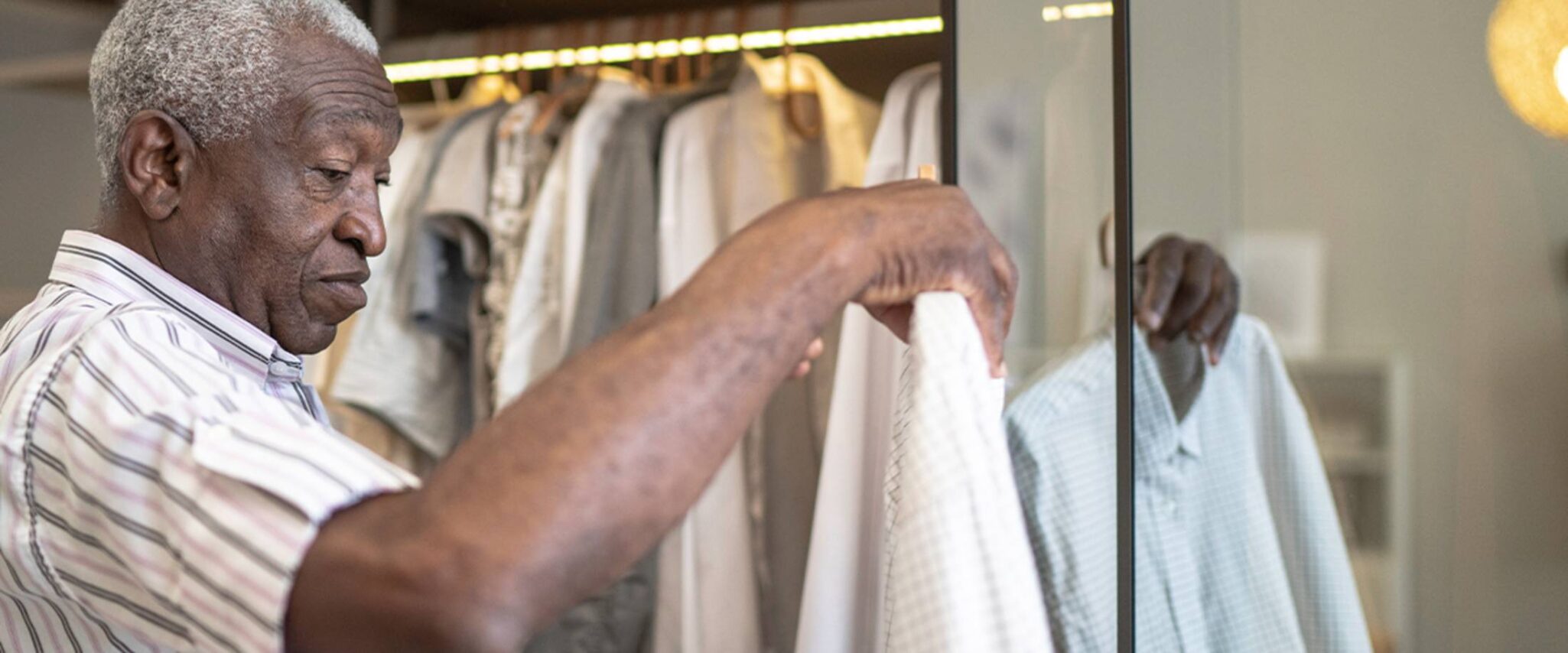 A walk-in closet can be one of life's great luxuries. Whether large or small, an organized walk-in closet gives you the space to start the day feeling relaxed and looking your best. There's no shortage of closet organization ideas to help you transform your walk-in closet into a welcoming suite that feels like far more than a place to hang clothing. Walk-in closet ideas and styles run the gamut from glamorous to trendy to plain and simple, so find the design and style that's right for you.  Whatever your style, important closet organization ideas include arranging your clothes by color and season, with the most commonly used items the most accessible.
Here are some additional walk-in closet ideas:
Lighting
Make sure the space is well lit because, after all, nothing is more frustrating than struggling to see your clothing or yourself as you try on an outfit. Lighting is a great opportunity to add style to your walk-in closet. An elegant light fixture can add sparkle to the space, while recessed lights placed within shelves can add a touch of modern glamour. Small strip lights are a simple way to add warmth to a closet, while illuminating darker corners.
Shelves
Shelves provide a simple way to organize your clothes when fussing with hangers isn't necessary. Use shelves for folded sweaters and casual shirts. This will free up hangers or a clothes rack for dresses, suits, blouses and slacks. If space allows, shelves can be the perfect spot for shoes, too.Use the harder-to-reach shelves for storage. An upper shelf is a great spot for luggage, extra pillows or out-of-season bedding.
Storage Boxes
Storage boxes are an appealing way to keep the closet organized. From simple plastic bins to vibrant fabric boxes, storage boxes are the perfect solution for odds and ends, personal items, dress hats and jewelry.
Mirrors
In addition to the obvious self-reflecting use, mirrors lend a wonderful space-adding effect to a walk-in closet. Placed on the outside of storage cabinets or drawers, a mirror can be quite attractive, catching light and further illuminating your space.
Furniture
If space allows, a dresser and ottoman add style and functionality to a walk-in closet. A waist-high dresser can double as a table, while an ottoman provides a place to sit safely while putting on socks and shoes.
The senior apartments at Freedom Pointe at The Villages have spacious walk-in closets that you can organize and decorate to your heart's content, creating the luxurious experience you've always wanted. Why not take a moment and explore our floor plans to see how you can make every space in the residence your own.