Holiday Gifts and Crafts People With Dementia Can Make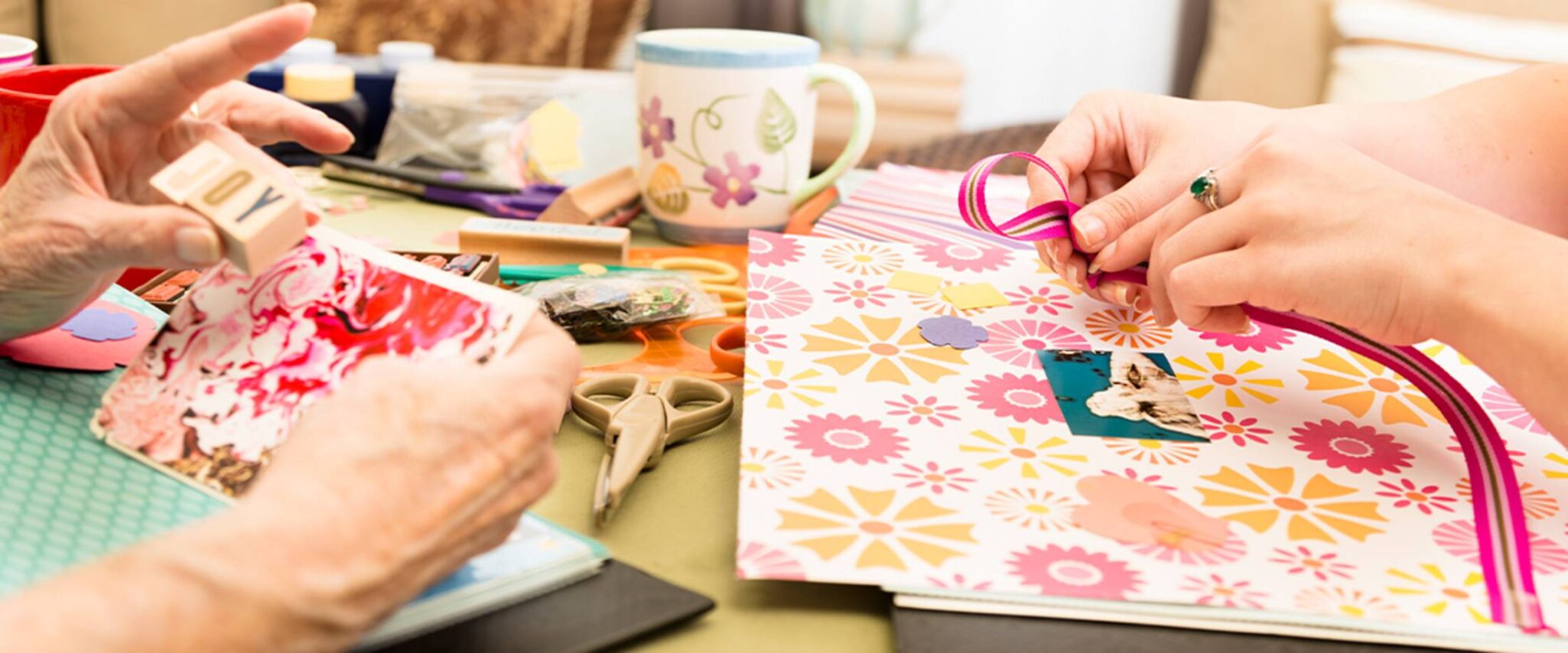 As the end of the year fast approaches, we thought it would be a good time to share some of our favorite holiday gift activities for people with dementia. While it is true that people with dementia experience a progressive decrease in the ability to reason, memory care activities have been shown to slow the process. So while the following dementia-friendly activities make great holiday gift ideas for the families of people with dementia, they also serve as a source of therapy. In fact, dementia activities such as these have been shown to:
Create positive sensory stimulation
Boost self-esteem
Reduce depression
Provide a feeling of relaxation
Instill a sense of control
Reawaken a sense of playfulness
Maximize opportunities for socialization
The best activities for people with dementia offer three types of stimulation: cognitive, emotional and physical. That simply means that dementia-friendly activities should engage the brain, the heart and the hands. And, of course, they should be tailored to the interests and abilities of the senior. We call this a person-centered approach. It's what we use here at our community.
Artistic Winter Craft Ideas for Seniors
Simple Ombre Artwork Painting is a magnificent memory care activity no matter the time of year, but it is especially fun when it is being made as a holiday gift. We like this ombre artwork because it's easy to create and so beautiful to display. Simply choose gradient shades of a color and brush them onto the canvas.
String Beads Idle hands can lead to frustration and anxiety for people with dementia. Stringing beads is a great pastime our dementia care residents enjoy almost daily. The size of the string and the beads can be personalized to meet fine motor skill abilities. During the holiday season, these strings of beads make great decorations for a tree or mantle.
Scrapbooking Our memory care residents also really enjoy scrapbooking. With just a notebook, glue stick, safety scissors, and some magazines and catalogs, they can spend hours expressing themselves through the images they collect.
Refrigerator Magnets These glass gem fridge magnets are such a simple and fun holiday gift idea that is easy to do with a group for added socialization.
Nail Polish Marbled Votives This is another simple and quick dementia-friendly craft that requires just three materials — nail polish, water and votive cups. Fill a nail polish brush with the polish, and then dip it in water to dilute it before brushing it onto the votive in a mix of colors and strokes.
Fashionable Winter Craft Ideas for Seniors
Painted Wood Bead Necklace These lovely necklaces are one of our favorite activities for people with dementia. They're so easy to make and will become a cherished keepsake for the family members who receive them as holiday gifts.
Pillowcase Tote Who doesn't love a good tote? Whether it's for library books, beach supplies or groceries, you can never have too many in our opinion. And for people with dementia, they're an easy, engaging gift to make.
Garden/Floral Winter Craft Ideas for Seniors
Crepe Paper Flowers Residents in our dementia care neighborhood simply can't get enough of this beautiful craft idea. We use cardstock to create templates for the leaves and petals; then our residents are off to the races, creating colorful faux flowers that make lovely, lasting gifts.
Newspaper Seed-Starter Pots Even during the winter months, this gardening gift is a fun dementia-friendly activity. These starter seeds will grow indoors during the winter, and with proper care will be ready for the recipient's garden in the spring.
Succulent Arrangements As you can see, activities for people with dementia don't have to be complicated. These succulent gift ideas are easy, low maintenance, and they will bring as much joy to our dementia care residents as they do to the friends and family members who receive them.
Monogram Faux Floral Wreath For our dementia care residents who love to make paper flowers but are up for a bit more of a challenge, these monogrammed wreaths take their floral creations to the next level and make perfect gift decor for themselves and gifts for their families and friends.
Edible Winter Craft Ideas for Seniors
Ready-To-Make Cookies in a Jar The internet is full of scrumptious recipes for these dementia-friendly culinary gifts. They're so quick and easy to make, and they can be given to all the friends and family members on a senior's gift list.
Other Kitchen Gift Ideas In fact, edible gifts are such a great source of entertainment for people with dementia. Being in the kitchen often evokes fond memories. We like to use simple recipes like no-bake cookies, chocolate-covered strawberries, or chocolate spoons. Our residents love taste testing as they perfect their creations.
The Wrapup
The fun doesn't end when the gifts have been finished. Here are a couple of bonus dementia-friendly ways our residents like to present their gifts:
Block Printed Wrapping Paper Making your own wrapping paper isn't as hard as it might sound, and when a handmade gift is presented inside handmade wrapping paper, it becomes even more special in the eyes of the recipient.
Felt Applique StockingsAnother simple way to present homemade gifts is in a homemade stocking.
We truly hope you've enjoyed this list of holiday gift activities for people with dementia. We have a lot of fun exploring new craft ideas with our residents. It's all part of our person-centered approach that celebrates the unique abilities of each of our residents. Every day here at Freedom Pointe, our mission is to enrich the lives of our residents with Alzheimer's disease and other forms of dementia. If you'd like to learn more about our person-centered, individualized memory care services, we'd love to share our methods and successes with you. Happy holidays!