The Ultimate Checklist for Moving into Assisted Living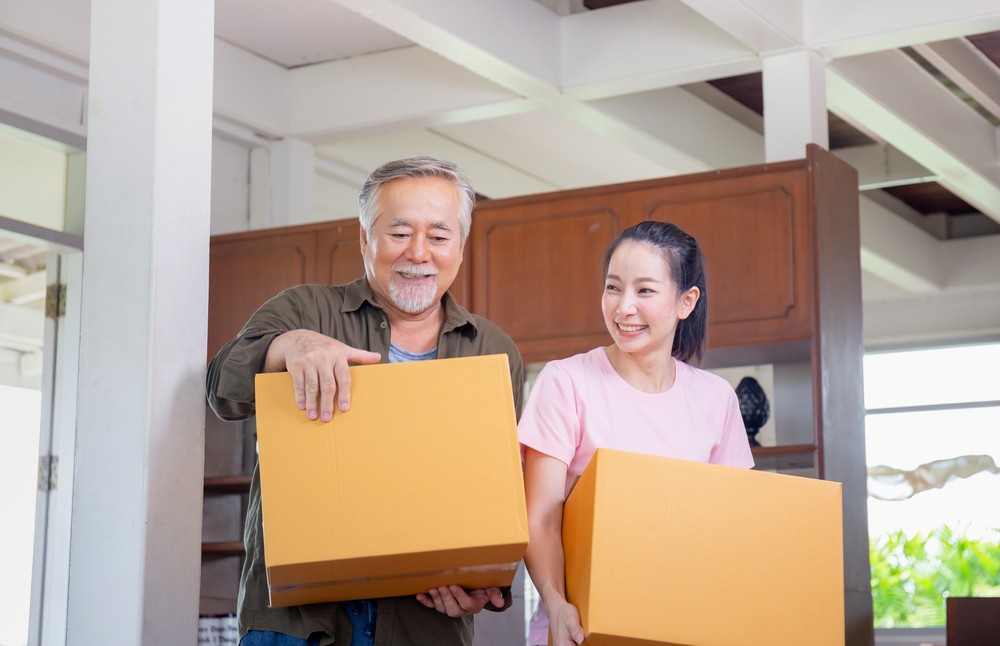 Moving is one of those things in life few people look forward to at any age. It's a lot of hard work, especially if you've lived in your home for a considerable length of time. For seniors who are moving into assisted living, the process might feel especially daunting. Despite being excited for the change, they can feel overwhelmed by all the details and tasks associated with the move. We've assembled this moving checklist to help make this transition go more smoothly.
The Ultimate Checklist for Moving into Assisted Living
Eight Weeks Before an Anticipated Move:
If you've already decided which community your senior loved one will be moving to, ask the staff for a copy of the apartment floor plan. It's helpful to note on it the locations of electric and cable outlets. Also make sure the floor plan has measurements for each room in the new space. Use this document to determine what furniture will fit and where it will be placed.
Obtain quotes from moving companies. Talk with staff at the assisted living communities on your list for recommendations and to see if they have any moving partners that offer discounts. It's a good idea to create a list of questions to ask each of the moving companies you meet with. This list might be helpful as you do that.
Price nearby storage facilities. You may need to temporarily rent extra storage space. That will give you time to figure out what the senior does and doesn't need, while also finding ways to sell or give away possessions they won't have room for after their move. If you'll be storing anything sensitive to temperature, find a climate-controlled storage unit.
Keeping track of where belongings and furniture are going as you sort and downsize can easily become overwhelming. Before you get started, create an inventory worksheet to note the final destination of all items, such as the assisted living community, an adult child's home, storage, or donation for charity.
If your family member will be moving out of their current area, you'll want to begin looking for new doctors, a pharmacy and any other medical suppliers they utilize. It can sometimes take a month or more to get a new patient appointment with a physician, so this should be a priority.
Now is the time to start stocking up on the supplies you'll need to pack up the senior's home. That means boxes, tape, bubble wrap, labels, trash bags and markers.
Six to Seven Weeks Before the Move:
Begin the process of cleaning out the home and packing it up. This is often the task that most overwhelms families. Downsizing experts frequently suggest people begin packing in the rooms used least often and work out from there.
If you and your senior loved one are struggling to start this part of the process, connecting with a senior move manager might be helpful. These professionals can provide assistance with all phases of a move. This database from the National Association of Specialty and Senior Move Managers (NASMM) can help you locate one nearby.
Investigate organizations that accept furniture and other household items your loved one won't need any longer. Some will even come to the home to pick them up.
This is also a good time to consider whether you should have an estate sale. If the older adult has lived in their home a long time or if it's a large place, there will likely be a lot of belongings that won't make the transition to the senior living community.
Four to Five Weeks Before the Move:
 If the senior has a house to sell, it's probably a good idea to start exploring real estate agents. Ask people you know and trust for suggestions. You can also search for a Senior Real Estate Specialist (SRES) on the National Association of REALTORS® website. These professionals undergo additional training to learn how to best support older adults and their families through this transition.
Make arrangements to cancel utility services, including electric, gas, cable and phone.
Identify and pack valuable items that you can bring to the assisted living community in lieu of sending them with the moving company.
Start the change-of-address process with creditors, health insurance providers, family and friends.
Order checks with the senior's new address on them.
Two to Three Weeks Before the Move:
Finalize the moving date and arrival time with the assisted living community.
Confirm the moving date with the moving company, estate sale professional, storage facility, the charity that will be picking up donations, and any other organizations involved in the move.
Decide on a real estate agent and meet with them to create a plan for listing and marketing the home.
Visit the United States Postal Service Official USPS Change-of-Address page online to arrange to have mail forwarded to the new address.
Talk with the clinical team at the retirement community to see how medications are handled. You'll likely need to make sure there is at least a 10-day supply of prescription and over-the-counter medications, especially if the senior will be changing pharmacies.
Plan meals and snacks for the days leading up to the move. Be sure to plan for the friends and family who will be assisting you.
It's usually a good idea to have your loved one  begin to get involved ahead of time with their new assisted living community. Encourage them to participate in a few activities and go for lunch or dinner a couple of times.
Week of the Move:
Finish packing the senior's home as much as possible. Create a suitcase of personal care items your family member will need on moving day, such as medications, toiletries, sheets and towels.
Use up items in the refrigerator and freezer, and clean out items you won't be taking to the senior's apartment.
Check all cabinets, closets and drawers to make sure nothing is left behind.
Organize a cooler with snacks and beverages for moving day.
Confirm final moving arrangements and new address with the moving company and the staff at the assisted living community.
Moving Day:
Strip the beds and pack bedding, towels and laundry.
Finish packing the cooler and suitcases.
Pack valuables and supplies that will be going with you in the car.
Put the trash out or ask a neighbor to do this on trash day.
Make sure all appliances are turned off and/or unplugged.
Try to relax and avoid sweating the small stuff. There will likely be unexpected issues that arise, despite your best efforts at planning.
Contact Freedom Pointe at The Villages
If a senior in your family is thinking about making a move into assisted living, we invite you to consider Freedom Pointe at The Villages. Contact us today to learn why this assisted living community has earned such a solid reputation for excellence!